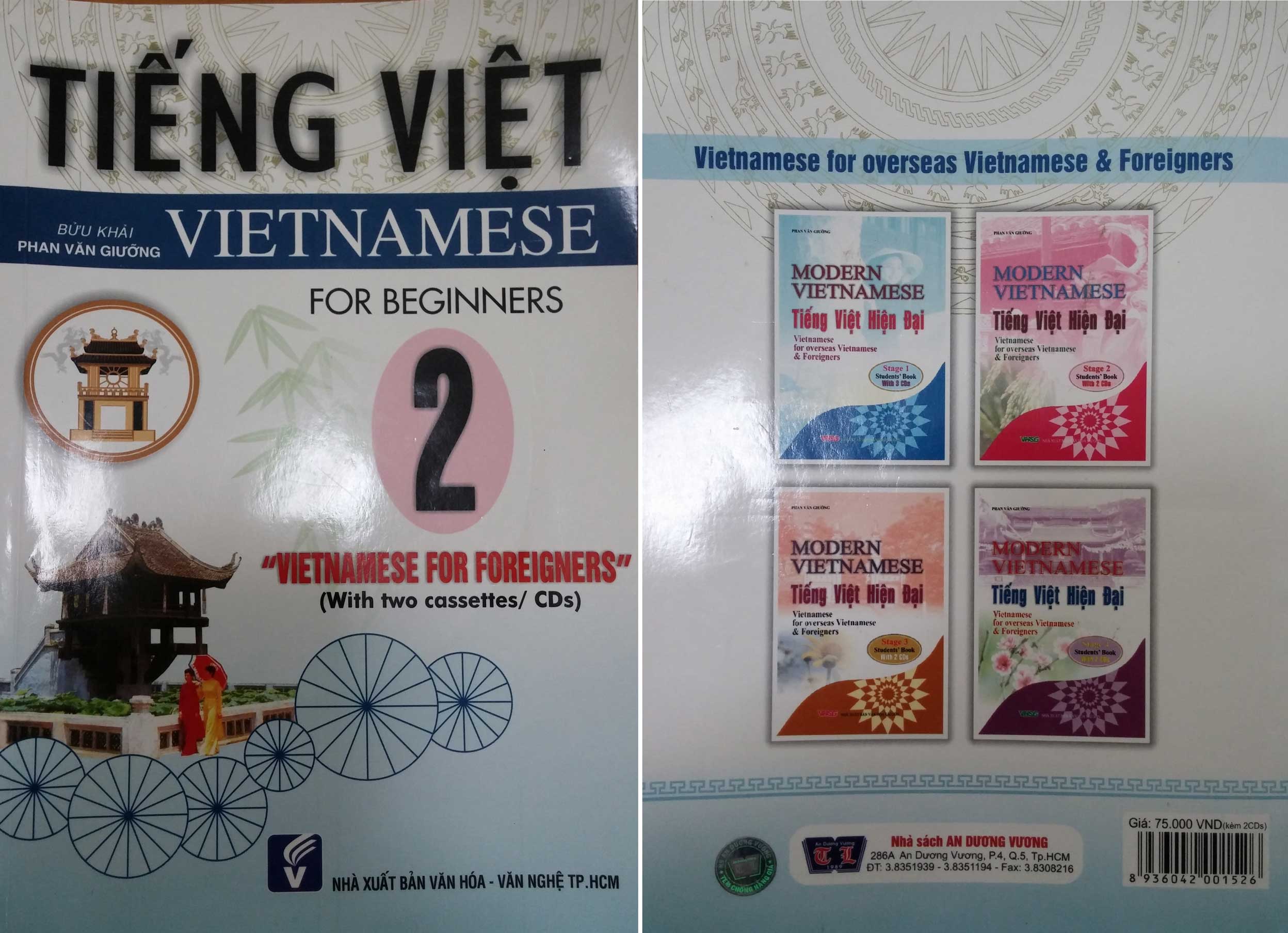 FOREWORD
Vietnamese for Beginners 2 is one of a series of Vietnamese teaching materials produced my the Centre for Asia Pacific Studies, Victoria University of Technology. This book is designed for second  language learners at tertiary or adult courses who have finished the first book: Vietnamese for Beginners 1.
After publishing Vietnamese for Beginners 1, accompanied with a textbook and cassettes, the Centre for Asia Pacific Studies has received many positive comments which indicated that the materials are suitable for self-learning as well as classroom teacher-student interaction. They are used widely in Australia, overseas and even in Vietnam.
In producing this book, we have a great co-operation of Mr Buu Khai, a well-known Vietnamese linguist from the Edith Cowan University, and a wide range consultation with educators, language teachers and linguists.
This book is designed for one semester work as part of any degree in which Vietnamese is a major, a sub-major or an elective subject in the course structure.
The book is accompanied by two audio-cassettes and a workbook. The set of audio-cassettes contains the dialogues and oral practice in the student's book. The workbook can be used to help the oral practice and to answer the Written Practice.
We have also produced the Vietnamese Interactive Book 2 which is based on this book. It is a computer assisted instruction which helps students with self-learning.
I am pleased to introduce this package to students, teachers and provides of the Vietnamese language for their convenience and use.
Professor Rodger Eade
Deputy Dean, Faculty of Arts
Acting Director, Centre for Asia-Pacific Studies.
ACKNOWLEDGEMENTS
I would like to thank Professor Paul Clark, Pro-Vice-Chancellor of Victoria University of Technology and Professor Stephanie Fahey, Director of the Centre for Asia Pacific Studies and  Head of the Department of Asian Studies and Languages for their commitment and support in development of Vietnamese teaching materials for second language learners at tertiary level.
I am very grateful to Dr Buu Khai for his co-operation in writing this book.
Many thanks are due to staff of the Faculty of Arts and Centre for Asia-Pacific Studies for their invaluable assistance and comments.
I would particularly like to express my gratitude to the following staff who took part in producing this book: Ms Christina Marquet, Ms Yvonne Ware, Mr Nguyen Ngoc Tuan, Mr Le Van Tai, Mr Nguyen Binh Tri, Mr Huynh Tuan Nhut, Ms Pham Thi Minh Nguyet, Ms Nguyen Thi Giang Ngoc and Mr Dinh Hung.
Phan Van Giuong

Project Officer
CONTENTS
Module 1: Đến thăm một người bạn - Visiting a friend
Module 2: Ở chợ trái cây - At the fruit market
Module 3: Nghề nghiệp -    Occupation
Module 4: Tại phòng mạch - At the doctor's
Module 5: Dự tiệc cưới - Attending a wedding party
Module 6: Tự đánh giá -    Self assessment
Module 7: Ra nhà bưu điện - To the post office
Module 8: Dịch vụ ngân hàng - Banking services
Module 9: Gọi điện thoại - Telephoning
Module 10: Thuê nhà - Renting a house
Module 11: Ở siêu thị - At the supermarket
Module 12: Bài ôn & Tự đánh giá - General review & Self assessment
Appendix: Giới thiệu hệ thống chữ viết tiếng Việt - Introduction to Vietnamese writing system