Author: Chu Phong Lan
When we start to study a new language, speaking ability is the most important point we will focus on. Foreigners studying Vietnamese have a same idea in this point. They like to speak quickly and communicate effectively with Vietnamese people. However, before communicating at a basic level, Vietnamese learners have to prepare for themselves many factors. Firstly, you need have good pronunciation, Vietnamese diverse vocabulary and understand grammar structures and slang. For pronunciation part, learners usually need support from teachers or Vietnamese speakers to practice. For vocabulary and grammar parts, there are many methods for learners to study. We think writing daily diary is an effective method.
Most foreigners are afraid of writing skill. However, writing diary is different from writing an essay or report… Writing diary is writing everything happening around you during a day or during a special period of time. So you can use simple grammar structures and vocabulary which use for daily communication. When writing diary, you can study these lessons:
- You can learn more new words. Writing daily dairy will help you improve your own vocabulary because there are many things happening each day in all aspects of your life. When writing daily dairy you will memorize learned words or know more new words. Some foreign students have made blanks or written down English words instead of writing Vietnamese new words which they do not know. And then, they ask their teachers for these new words. Therefore, they can not only know more new words but also correct their mistakes.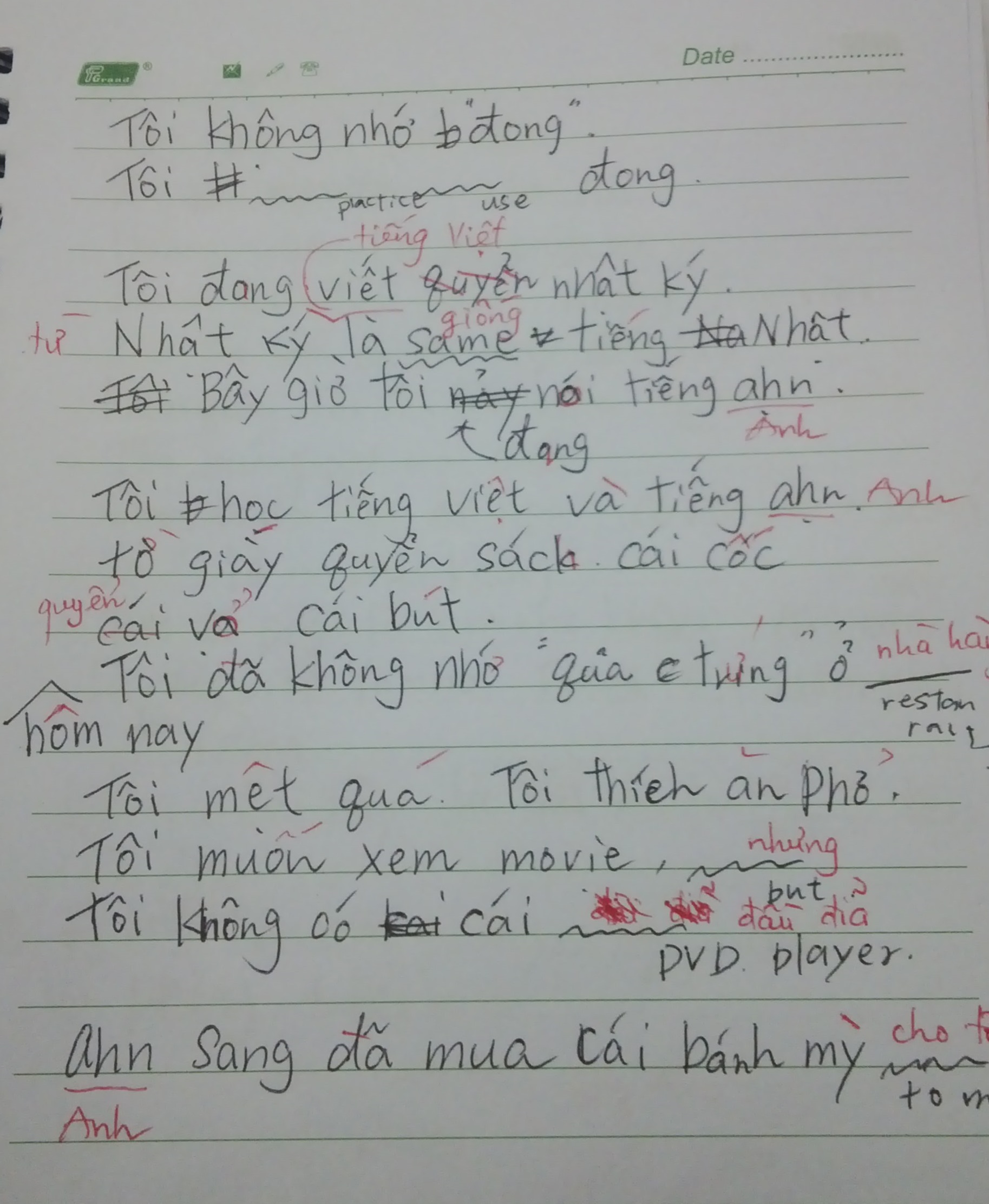 Ms Ogura(Japanese)'s diary studied 14 classes at 123VIETNAMESE Center.
When writing, this learner use all words basing on her memory
- You are corrected by a nature and exact way
When you write down what you think in your diary, it should be the best way to practice thinking and reaction by Vietnamese. You can use structures you knew, but in many cases, you can learn new forms for your wrong sentences.
- You will memorize tones combining with each syllable. When writing your diary, you can write wrong tones for some syllables. However, You should not be afraid of your mistakes. Your teacher will help you correct your mistake. When you make mistakes and your teacher helps you correct them, it will be much easier for you to remember them.
Initially, you can feel tired of thinking about writing, but you should think simply that you are taking notes about everything happening around you. Writing short sentences or small paragraphs or simple topics, you will make a quick progress